Easy view
eStela has a user-friendly and high-resolution viewer. Races can easily be shown in any device. Do you want to try? Try it
Upload photos during the race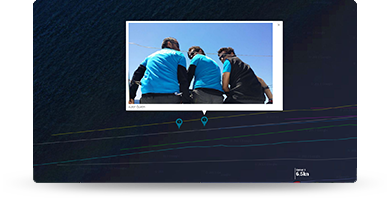 Quirón boat taking a photo
Any boat can upload photos during the race using eStela mobile app. All photos will appear in the viewer in real time.
Advanced settings
If you want to enhance the race viewing, eStela offers a wide range of possibilities. You can customise the viewer to hide or show boats, show the starting line or, as in the picture, show the distance between two boats.
Adapted to your event and brand
We want eStela to be easily adaptable to your event. In order to do so, we offer you the possibility to customise the map style: water colour, show maritime routes or even hide the shore.
Customised map with coloured sea and shore
Satellite tracking
For offshore regattas in which your phone signal is not enough, eStela brings compatiblity with Spot devices. To get a Spot device, please visit the manufacturer website: https://www.findmespot.eu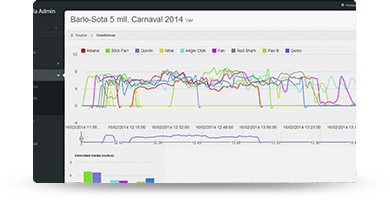 Statistics panel
After every race, captains can access an online statistics panel where they can see graphs about speeds, directions and travelled distances. These data will be compared to other race participants.
Subscribe to our newsletter